Share this: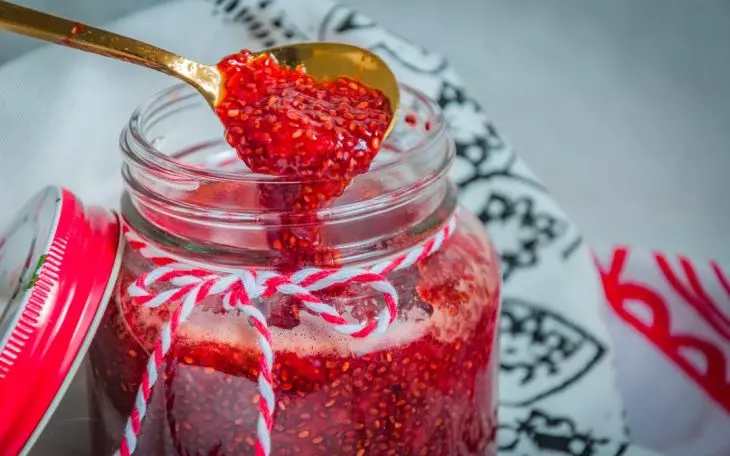 You might wonder why, Strawberry Chia jam and not regular jam..personally i think there is nothing wrong with regular jam other than having just a bit too much sugar even the one with no sugar added. I would also like my jam to have more nutrients – vitamins, minerals and micronutrients.
I make strawberry chia jam because chia seeds are packed with nutrients, such as fiber and omega 3. The chia seeds add a huge boost in nutrition for this jam, compared to regular jams. As a bonus it's also extremely easy to make. Oh! By the way, you can also try this chia jam with any fruit: Blueberry, Peach, Mango, etc. the possibilities are endless.
There are many many ways to consume chia seeds – such as my chia pudding, adding them to drinks and smoothies. But if there is an alternative way to make them that is fruity, jammy and low in sugar that can be made in less than 15 minutes..why not give it a try?
I do love adding this chia jam with my smoothie, PB & chia jam on toast or even added to a nice cream! If any of you try making it, please feel free to share and tag me on social media: Instagram and Facebook @chilliandlimeblog Twitter – @chilliandlimeth. I'd be more than happy to check out what you've made.
Want more Chia seed recipe? Check out our Chia Pudding and Strawberry Smoothie.
Strawberry Chia Jam Recipe
Prep Time: 5 minutes
Cook Time: 10 - 15 minutes
Total Time: 15 - 20 minutes
Portions: Makes 250 ml, which is about 10 portions
You'll need:
2 tbsp chia seeds
1 cup frozen or fresh strawberries
1-2 tbsp. Maple syrup or Agave nectar
½ tbsp. Lime/lemon juice

1-2 tbsp. Filtered water

Let's start!

In a medium saucepan combine strawberries and water on a medium low heat.

Use the spoon to gently smash the strawberries til they start to break down, then add maple syrup and chia seeds.

Keep stirring for around 5 minutes til the seeds swell up.

Squeeze in the lime/lemon juice (if your strawberries are already sour you can skip this step)

Turn off the heat.

The jam can be stored in an airtight container in the fridge for up to 3-4 weeks

Tips

Serve in puddings or on top of bread or crispbread - delicious
Share this: